It has been a few weeks since I have been outside as I recover from having my left hip resurfaced. Luckily the weather has been fantastic so, in addition to recovering in the sunshine, I have spent a few afternoons:
Soldering a more reliable, permanent connector to the tracking dobsonian to avoid it resetting itself midway through an observing session
Fitting a 22Ah battery that can ride inside the dob mount to avoid the cable wrapping around the scope
Clipping the multitude of loose cables to the dob sides
Flocking the optical tube to minimise stray reflections
Blackening the primary and secondary mirror side and rear faces to further minimise stray reflections
Replacing the stock finder bracket with a sturdier version that can hold alignment.
Anyway, here is a report from 23 September 2016:
Lovely and clear but occasional drifting cloud coming and going. Very still, nil wind. Milky Way clearly visible despite nearby house lights. Still ok despite few weeks after hip op! Enjoying reliability of new electrical system.
After aligning the tracking dob, I warmed up with M57 and M27, two lovely planetary nebulae, as my eyes gained full dark adaptation. After M57 I sketched M56 as shown below. It was interesting to compare this smaller and fainter globular to the much brighter, and much larger, M15 (Peg) and M13 (Her).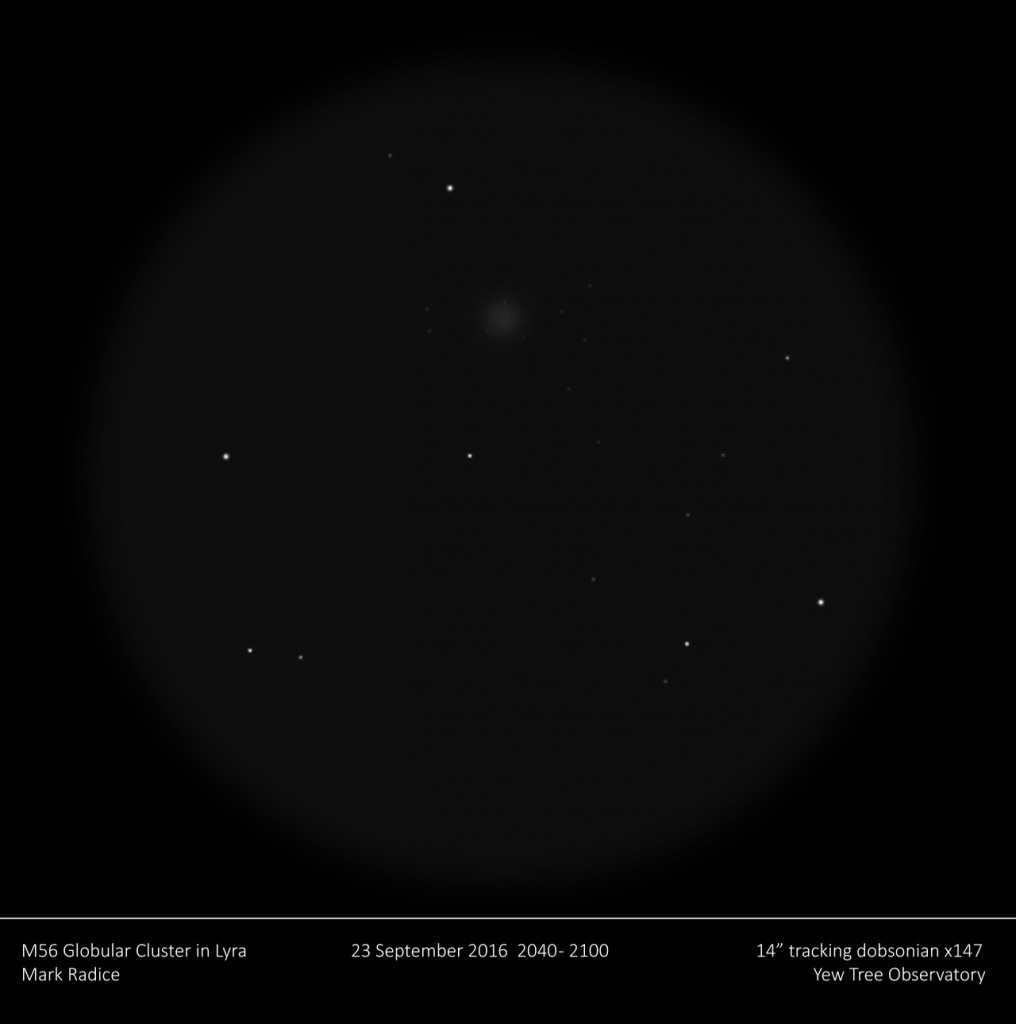 After the sketch, I moved onto
NGC 6791 OC Lyr              nowt seen as hard to pick out from milky way stars
NGC 6803 PN Aql )          Fail!! But then reading the 1 arcmin dia and mag 11-12 brightness this isn't a
NGC 6804 "     "    )          surprise
NGC6781 PN Aql               Detected as a faint glow but the sky is starting to mist over.
2200 humidity rising, fainter stars gone, in fact no faint stars visible in Cygnus to the naked eye. My hip is aching and the eyepiece dew heater is struggling to keep up!
Returned to NGC 6781. Very dim glow, circular, responds well to averted vision and contrast boost from UHC filter. Quite pretty and worth returning to.
NGC 6934 GC Del              Bright and dense, no granularity or bright stars, almost like an elliptical galaxy.
Neptune like a small pale-blue speck, transparency too poor to attempt a moon shot
Finished on M27 before quickly packing up.