Mare Orientale is a huge impact basin on the far side of the moon at 95degW. Like most impact basins, it is a series of impressive mountain rings arranged concentrically around a lava-filled basin. Visually, it is reminiscent of a ripples in a pond. The challenge is seeing it!
Just occasionally, it crawls into view (near full moon) when the libration allows allowing us to peer over the lunar limb onto the far side. I have only seen this a handful of times – the most memorable was with the little 6-inch SW Maksutov when on holiday. I made a simple outline sketch but remember the impressive view at the eyepiece – and wishing I had the ability to sketch the lunar surface!
Once the roof was rolled back and the scope aligned and tracking, a quick adjustment bought Mare Orientale into view.  Scanning back and forth at the eyepiece revealed 3 concentric mountain rings shining in the morning sunlight.  Alongside were two dark mare regions, Lacus Autumni and Lacus Veris.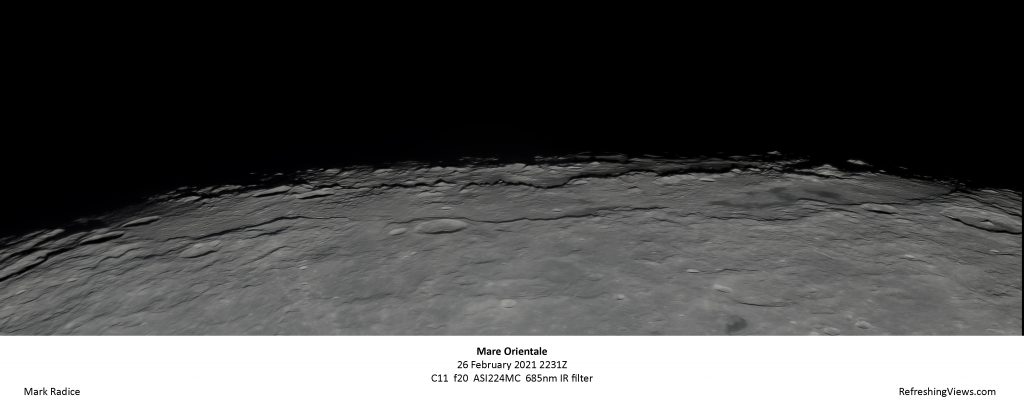 This region is too big to fit on the chip so I had to make a mosaic, especially with the x2 barlow increasing the image size. I took about 20 sets of 10k videos  to make sure I had enough overlap between each image to build the picture below.  The poor laptop was full so I made a tea while putting the data onto my portable drive.  That too was soon full as I captured as much data as I could – I did not want a little gap in the mosaic where I had missed something. 
The next morning, you could fry an egg on the laptop as it stacked each video before it was sharpened in Registax and mosaicked together in MS ICE.
Looking at the image, you can see three concentric rings of Montes Cordillera, Inner Rook and the Inner Rook Mountains. Being on the limb, we get a wonderful view looking obliquely towards the horizon. It makes me think of coming into land alongside a fabulous mountain range. Referring to Rukl and Mond Atlas, I note that Mare Orientale itself starts at the crater Kopff. This means I have only caught the outer mountains and not the mare itself so the hunt goes on!